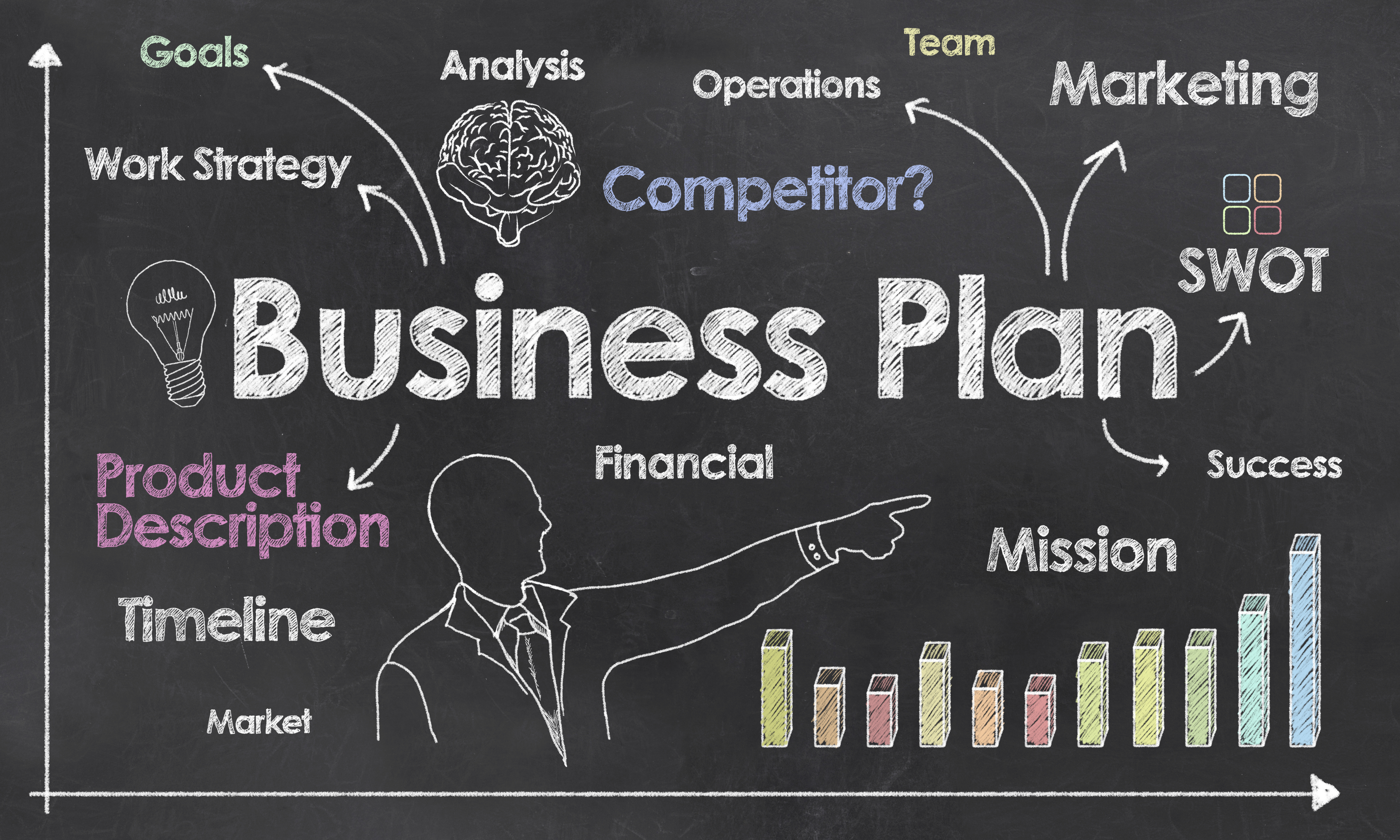 A business plan is a dynamic, living document, as versatile and multi-faceted as your business. A core advantage of creating a plan is it can assist you in making better and more informed decisions for your business. A business plan can be of use to a company in any stage. It requires careful and strategic planning during the creation process to maximize efficacy and its implementation can offer a wide range of advantages to a company.
WHAT IS A BUSINESS PLAN?
A business plan is an outline of your business, which typically describes your business and the products and/or services it offers. It also includes financial information, your vision, budgets, financial and operational objectives, as well as strategies to show how these objectives will be met. It can be written for various reasons, such as internal purposes or to secure funding.
WHO CAN BENEFIT FROM A BUSINESS PLAN?
An ideal business plan evolves and progresses with your business; it is updated as your company changes and it assists you in the decision-making process during any stage of the business cycle. A company in any phase can reap its benefits.
A business plan can help turn your vision and capital into fruition if you are a new business owner. It can help you to communicate your vision effectively, assess whether your idea is viable and provide the information required in order to secure financing from lenders. If your goal is to expand an established business, a plan can help you make better decisions in order to grow, while avoiding foreseeable risks. Also, a business plan can help smooth over the process of exiting your business if you are looking to sell, transfer or dissolve it. After all, effective business planning during the life of your business contributes to selling your business at the best price and allows you to consider strategies that take time to implement.
GETTING STARTED STRATEGICALLY
First, consider the reason for your business plan, as this dictates the breadth and level of detail it requires. Your reason can be related to general internal requirements or specific needs, such as raising capital to sustain growth. Determine the amount of detail and scope yours requires and execute it accordingly.
Then, consider working with multiple resources when developing your business plan, including financial advisors, business consultants, peer groups and key employees. Exploring different perspectives allows you to consider and compare various scenarios and increases the chances of your plan meeting your objectives. Keep in mind that unlike internal partners or colleagues, an external party may require a greater amount of detail in order to understand your business and industry.
Further, it is essential to structure your business plan according to the concerns of its respective audience. For example, if you are developing a complex health-tech process, but your potential investors are not engineers, avoid using jargon they will likely not understand. The goal is to tailor your plan to its readers, by emphasizing aspects that directly relate to their interests. If your plan is created for internal purposes, you should highlight the benefits that will result from implementing it. Benefits such as improved coordination, increases in revenue, empowerment of the work force or increased motivation can be included. If your business plan is developed to obtain a loan for ongoing operations, it should address the concerns of prospective lenders. Lenders are largely concerned with maximizing the return on their investment and reducing their risks. Therefore, you would include a strong financial presentation and provide sufficient documentation of projected revenue costs.
Finally, ensure you gather as much information as possible about your business and market before devising your business plan. According to the Harvard Business Journal, companies that produced their plans 6-12 months after deciding to start their businesses had an increased profitability rate of 8%. Also, ensure your plan is created with plenty of recent customer opinions in mind. The Harvard Business Journal has found that start-up companies' chances of venture viability increased by 27% if their business plans were created during their market research phases, as they were speaking with customers and preparing their marketing blueprints.
SIGNIFICANT BENEFITS OF HAVING A BUSINESS PLAN
Creating a business plan offers a broad range of benefits to a business owner and his or her enterprise. Your plan can paint a comprehensive picture of your business, improve employee performance, underscore opportunities for growth and facilitate sound decision making.
A noteworthy benefit of having a business plan is it gives employees a distinct sense of direction and increases cohesiveness and productivity. Implementing your plan provides you with the potential to create a unified team, which is jointly focused on specific goals, in a synergistic manner. It provides structure and helps keep you and your team focused on annual and long-term goals. When members of your team are informed about your business plan, they can evaluate and adjust their own performance in terms of company objectives and expectations. Your business will operate more efficiently when employees are on the same page and focused on clear-cut targets and priorities.
In addition, creating or updating your business plan compels you to think about the scope of your entire business, as you carefully analyze it within its specialized parts. In assessing your market analysis, financial requirements, employees, operations, marketing plan and production, and how they relate to one another, you begin to form a holistic view of your company. As you connect the dots and consider all the elements of your business conjointly, you may discover relationships between them and identify useful patterns.
What is more, as you brainstorm to create your plan, you will find multiple opportunities to grow and improve your business. Identifying pertinent opportunities is crucial when it comes to the success of your company, as a missed opportunity can have detrimental consequences. Your plan can uncover untapped market potential, innovative ways to improve the products or services you offer, funds you can potentially save and more.
Lastly, a carefully thought-out business plan allows you to make better decisions for your business and enables you to look to future developments with an informed perspective. Business owners are faced with what can seem like an endless amount of decisions and problems to solve. Key information in your business plan, regarding budgets, your industry, operations and allocating resources is useful to consider during the process of making decisions for your business. Such information ensures you have the appropriate facts and figures to support your decisions, making them more substantial and well founded, which results in more favourable outcomes.
ELEMENTS TO INCLUDE IN YOUR PLAN
Executive Summary
A one-page, high-level overview of your business, which sparks the reader's interest. Focus on the fundamental attributes you have found in constructing your plan. Many people leave this section until the end, to incorporate all important findings.
An Overview of Your Company
A description of what your business does, its vision, goals and values. Explain who you and your team are and why you are the correct people to take your idea to market. Inform the reader of your business structure, industry, objectives and the nature of your business.
Financial Details
A prior history of financial performance and a forecast with key assumptions; consider including income statements, a balance sheet, cash-flow data, a profit and loss statement and a personnel plan. Your forecast should feature, at minimum, the future 12 months and its level of detail will be based on its audience and the purpose of your plan.
Market Analysis
An evaluation of the overall market and how your company fits within it. Identify your market segments and determine the size of each segment. Understand your ideal customer profile and investigate relevant industry trends. Also, include an account of your strengths, weaknesses, opportunities and threats (SWOT), which allows you to think critically about your business. Such insights can identify areas conducive to growth and allow you to form an objective view of potential risks and areas that require improvement. It is useful to be aware of both direct and indirect competitors; even if a company sells different products than you do, it can attempt to solve the same problems as yours does.
Products and Services
Describe your products or services in detail and what makes them unique. Provide an outline of the problems you aim to solve and how you plan to solve them. Showcase the value and quality of your products or services, you may need to provide extra detail if your reader is not familiar with your industry.
Competition
A competitive analysis of how your business will fare in the face of competition. Explain your ability to lower prices in order to maximize profits and whether your products or services offer features that set them apart from competitors. Include some companies you believe to be your direct competitors and your plans to differentiate your business from theirs.
***
A business plan is a highly beneficial tool, which can contribute to the success of your business. A sound plan will provide you with a well-rounded understanding of your business and the environment in which it operates. Your plan does not always need to be complex or time-consuming, it merely requires you to reflect on significant factors that affect your company. It can assist your organization in all of its stages and offers an extensive list of benefits, so long as you put in the necessary research and planning. Remember, your business plan should not be stagnant and can be as ever changing as the twists and turns of your business.
This article has been written in general terms to provide broad guidance only. It should not be relied upon to cover specific situations and you should not act upon the information contained herein without obtaining specific professional advice.  Please contact our office to discuss this information in the context of your specific circumstances. We accept no responsibility for any loss or damage resulting from your reliance on the information in this article.